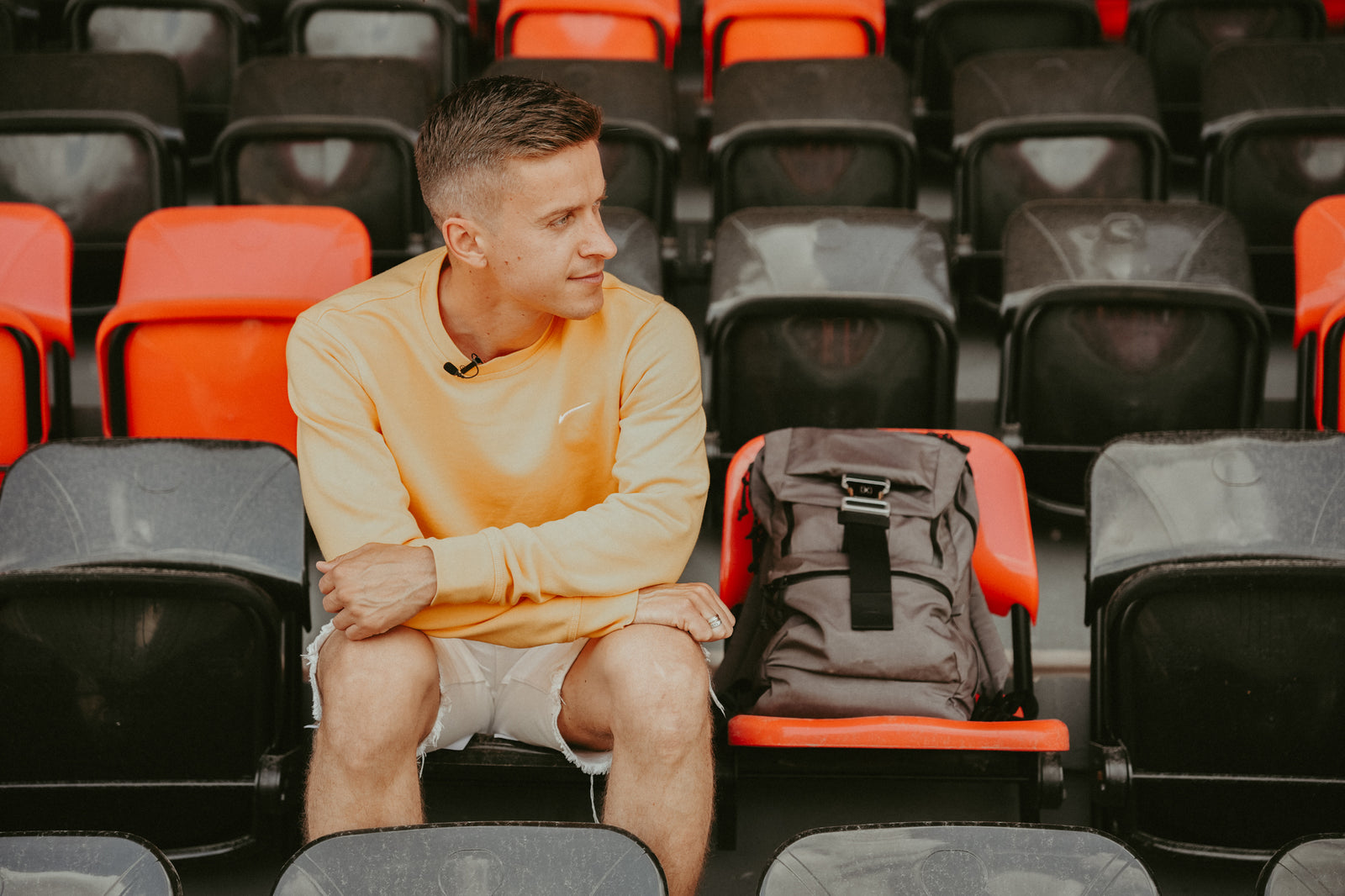 Povoroznyuk Dmytro - is a Ukrainian former footbal journalist, futsal player, host of a Trendets Youtube show and professional footballer who plays as a centre-forward for Ukrainian club Veres Rivne.
Why did you choose football?  When did you first feel a desire to play football?
We often do not choose hobbies or activities by ourselves in childhood. A number of tastes are formed by our surrounding. Football is the most popular sport in Ukraine and I have begun to play and admire this sport since my early years. This feeling I have been carring in my soul for many years. My work, lifestyle, friends and interests - all these aspects are mainly related to football. For me, football is much more than just a game. It is one of the few social stories that unites nations and people with different points of view.
You have named your youtube channel "Trendets"(means ~ "kick ass"). Why did you choose such an extravagant variant?
This name consists of two words: "training" and something like "exhausted/burnt out". So, we want to show how difficult it is to be an athlete. People go through many difficulties: hard trainings, injuries, competitions, mental problems in order to have a deeper and more complex understanding of what football, the sports world and sportsmen is.
How often do you personally play football and what position do you have? Do you remember the first important game which you have won?
I have played as a central attacking linebacker in big football and as a central defender in  mini-football. My first important victories were at school. We all wanted some recognition and popularity and football gave us that opportunity. To win another class or another school with spectators in the stands was like winning the World Cup.
How does your wife feel about football? Is she your fan?
Football is a part of her life. Family life is impossible to imagine without it. She likes to come to the stadium when there is a large-scale match. Still, the atmosphere at the stadium where tens of thousands of people gather in one place can impress anyone. It always fascinates whether you like football or not. Apparently, this is one of the few phenomena in the world that people are willing to see regularly and fill stadiums every Sunday.
What else fascinates you as much as football?
Traveling and creativity. There are no stereotypical and primitive stories in these things. You always discover something new.
Who are the three best players in football?
These are people who have seriously influenced my attitude to football both in sport and life. There are four of them: David Beckham, Ronaldinho, Luka Modric, Andriy Shevchenko.
In your opinion, what are the most important qualities for a professional footballer?
Speed, determination, a burning desire to learn and become better day to day. He has to understand football as a favorite game, but not a commercial project.
On Instagram you've admitted that your favourite city is Barcelona. Which cities have you also visited?
I like Europe very much that's why I rarely fly to other continents. Europe is beautiful everywhere. Nature of Montenegro and Croatia, wildlife and eco-friendly worldview of Scandinavia and Iceland, the history and culture of Italy and Spain, the pace of life in London and Istanbul, the multiculturalism of Paris ... Everywhere you can find exciting adventures and interesting places. Still, the main focus should be on the positive things, not on the disadvantages of each region.
Do you always visit places related to football in your journeys? (If they are such places  in the city.)
This is not the main task, but that's great if I have an opportunity to visit the stadium. There is so much football in my life that it has already integrated into my life, habits and energy.
What countries are you dreaming to visit and why exactly these ones?
There are two directions. The first one is a place with fantastic nature. It is the Far East, Nepal, Tibet, Bhutan and all the countries of the region which are unknown for many people. It is also interesting to feel the energy and rhythm of high-tech cities: Seoul, New York and Tokyo.
What three things are always in your backpack?
My laptop, wallet, action camera, notebook with a pen and documents.
You have bought a HURU backpack a long time ago. What criteria were important for you while choosing it? What did you like the most?
There were several qualities: the Ukrainian brand, beautiful minimalist style, high-quality materials and accessories, functionality and acquaintance with the team that likes own product. This is a thing that is impossible to give up, especially in my situation. 90% of time this backpack is with me.
---