5 EXAMPLES: WHAT ICONIC MOVIE CHARACTERS WOULD WEAR TODAY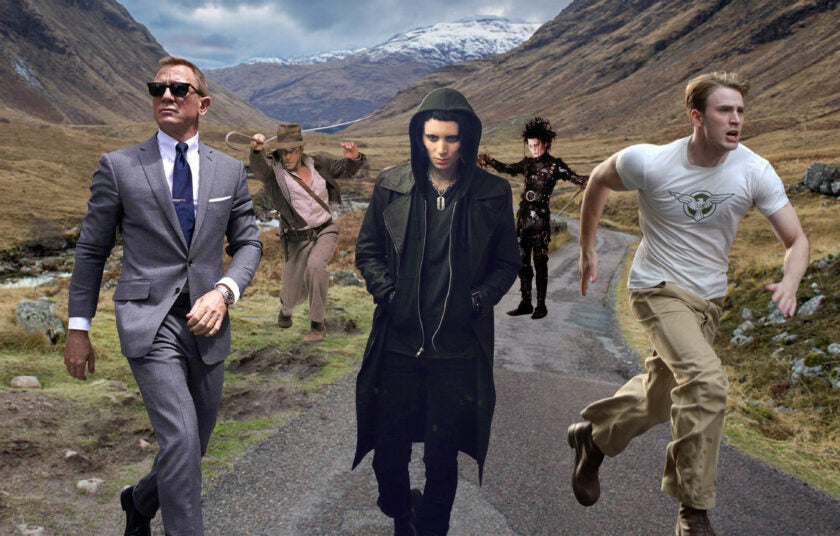 Well-designed characters often become iconic and go far beyond movies. We associate ourselves with the characters, try to imitate them and copy their best qualities. And what if they really lived among us? Would we recognize them in the street? We've decided to imagine what iconic characters would look like in real life.
The Girl with the Dragon Tattoo
David Fincher's heroine Lisbeth is an example of a strong girl who wants, is able to, and knows how to survive in the harsh world of men. She has a complex nature on the outside, but in her soul she is fragile and vulnerable, touching, and somewhat even naive. Cruel people and life circumstances have taught her to hide her true colors behind a rough image. All the clothes she wears are dark in color: black jeans, a leather jacket, coarse boots, military style outfit, and a Huru S Model backpack, which she can conveniently and quickly throw over her shoulder, get on a motorbike and dash away from the scene.

James Bond
"Bond. James Bond" has long been retired, but what has remained is his introduction style and his habit of wearing costumes. Although now this intelligent elderly man lectures to a younger generation at MI6 and wears Thom Browne to appear younger than his years. His HURU H1 Model backpack always has his Aston Martin keys and several spy devices inside, with which he occasionally surprises his students.

Captain America
To save the Universe at the right time, you need to lead a healthy lifestyle. Which is why Captain America works out daily, eats right, and keeps a consistent sleep schedule. Outwardly, he does not want to stand out from the crowd and looks like a typical middle-class American: chinos pants, a cap, a T-shirt, and white sneakers. He complements his daily look with a HURU H2 Model backpack – a classic model that can hold everything he needs, including his indestructible shield. So, if you see a man with such a backpack in the crowd, it is quite possible that you'll see this superhero!

Edward Scissorhands
The hairstylist profession is always relevant. In real life, Edward would already have a network of beauty salons worldwide. Besides haircuts, he has also mastered color theory and the barber profession. Such celebrities as Cardy Bi or FKA Twigs would make appointments with him for hair braiding. At the same time, Edward is still a modest and quiet romantic. He loves sophisticated clothing from Japanese designers, and his HURU Fanny Pack always contains a pair of special silk gloves that he always wears on a date with his beloved.

Indiana Jones
Indiana has become a blogger. That was inevitable! Now he not only travels around the world and goes through all kinds of ordeals, but he also shares this in his stories. He sticks with his own style and still wears desert boots. Unlike other heroes, his HURU A Model backpack will fit the maximum amount of travel essentials. After all, Indiana is an adventurer, and he never knows what exactly he will need today: a cord, a tropical mosquito spray, an ice-axe, or a lighter.
---