ARTUR ORUJALIEV ABOUT HIS TRAVEL LIFE, HIS OWN WINERY AND PERFECT BACKPACK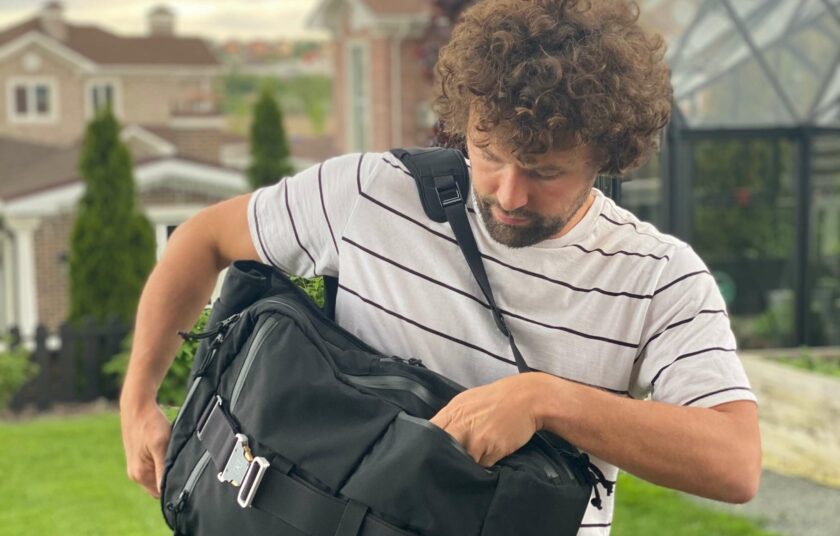 You often downshift with Anastasia. Where have you enjoyed living the most so far and why?
I wouldn't say that we downshift. Also, when I look at our travel expenses and compare them to the trips we had 10 years ago, I'd say the opposite is true. You get used to comfort quickly. I can say one thing for sure: increasing comfort adds no joy specifically, that's 100% true. The main thing is to travel, but how is not that important. It's naive to assume that a dinner at an oceanfront restaurant will make a person happier than watching a sunset on a mat on a nearby beach.
I don't have one favourite place for long trips, as we and the world around us change very quickly. For example, the island Ko Samui in Thailand 10 years ago and today are basically two different islands. As a child, I visited the south of Italy many times, but now, too, it's an entirely different region. The same is true for other places. Well, you must also remember that your needs change all the time as well. We travel only for impressions and emotions and respond to the environment in different ways each time. Even after a short time, each city is different because we are different. If I can put it this way, we never visit the same Rome, New York or whatever each of us loves the most. Every city is different every time.
How many countries have you visited already and where do you dream of travelling when all the borders open?
Around 70. But this number shouldn't mean anything because different regions of just one state are often more different than even neighbouring countries. There's this desire to see something new, but we don't go after quantity and also visit the same places every now and then. For example, we've been to our beloved Thailand and Croatia multiple times and we want more. Also, sometimes you want to go to the same place, but at other times, to a completely different one. When you know a country, it's much more interesting to get to know it "on a deeper level".
In Thailand, we love the islands, but the north of the country is just unbelievable and a different world. It's the same in Croatia: we'd always go to Istria in the north, but last year we went much lower, and it turned out that even within 200 km the Adriatic can be completely different.
What are the three items that you always carry in your backpack?
A laptop, a notepad and, more recently, a sanitizer.
What are the features of your ideal backpack?
An ideal backpack for me is a backpack that I can use for different purposes. It should fit many items for a week's, and sometimes even a month's trip, but at the same time it shouldn't be too heavy or bulky in daily use. The design is more important than the size. By the way, there can be a lot of pockets, which isn't practical, just like when there are few of them.
How it looks is also important – I'm not into sports backpacks at all.
How did you get the idea of making your own winery? What grape varieties do you grow?
I'd had the idea for a long time, but while implementing it I realized that at that stage I had no need of a winery of my own. Kyiv isn't a very winy region. And wine is a hobby for me. So, for the production of @aowines wines, I use the facilities of another winery in the south of the country, which I regularly visit. This is Beykush, and in my opinion it's the best small winery in Ukraine.
Last year (for wines of this season) we worked with Bastardo for PetNat, Rkatsiteli for Orange, and we made red wine from a very strange mix of Aliberne and Malvasia. Seven hundred bottles of PetNat exploded (that's another story), and the remaining 300 have already been drunk. And we'll bottle the still wine in the coming weeks.
If you were asked to give just one piece of advice, what would it be?
Give advice only to yourself.
---